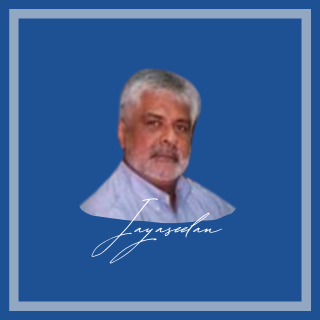 Contact Jayaseelan
About Jayaseelan

He graduated from the University of Malaya, Leeds Polytechnic, UK and University Putra Malaysia and Holds a degree in mechanical engineering and Masters in Engineering
He is current Chairman of the Engineering Education Technical Division of The Institution of Engineers, Malaysia and a member of the Education Committee of the Association of Consulting Engineers (ACEM)
Professional Engineer registered with the Board of Engineers (BEM), Malaysia
Member of the Association of Consulting Engineers
Malaysia (ACEM) and a Corporate Member of The Institution of Engineers, Malaysia (IEM)
Building Maintenance – Problems & Solutions
Problem Solving of Operating and Maintaining Air Compressors
Problem Solving of Operating and Maintaining Centrifugal Pumps
Problem Solving of Operating and Maintaining HVAC
Save the Energy Save Cost – Energy Efficiency for Malaysian Industries
Professionally trained in mechanical engineering
He is positive and lively in his approach. He livens his audience by always providing interactive and energetic presentation of this material in a comprehensive and easy to use format of ideas that works.
His participants describe him as a very creative, fun and lively trainer who sets high standards.
His wide hands-on industrial experience has enabled him to design and facilitate training courses.
He was a recipient of the Association of Overseas Technical Scholarships (AOTS) award on two occasions, awarded by the Ministry of Economy, Trade and Industry of Japan
A member of the working group to draw up the energy efficiency and energy conservation guidelines for pumps and compressors for Malaysians industries organised by the Institutions of Engineers, Malaysia, Pusat Tenaga Malaysia, and the Ministry of Energy, Water and Communications (KTAK).