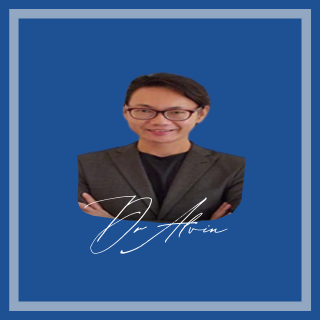 Contact Dr Alvin
About Dr. Alvin
Certified Practitioner of Neuro-Semantics (NS), Neuro-Lingustic Programming (NLP), Hypnosis & Time-Lines recognized by Dr. Michael Hall's International Society of Neuro-Semantics (ISNS, USA).
Certified Practitioner of NLP under Dr. William Horton's National Federation of NLP (NFNLP, USA).
Master of Business Administration from The Southern Pacific University (US)
Diploma in Psychological Counselling
Diploma in Stress Management Institute of Healthcare Administration (India)
Signature Programs
Psychologically Enhanced Interpersonal Skills
Persuasive Presentation Skills
Time & Stress Management (A Bi-Brain Approach)
Training Forte:
Conducted seminars and workshops for directors, managers, executives, accountants, entrepreneurs, doctors, educators and participants of various corporate and academic levels.
Malaysian Ministry of Health to create and conduct team-building modules upon which government doctors are evaluated for their career advancement and promotion. A presenter at international scientific conferences and has regularly contributed self-development papers to scientific periodicals.
Acclaimed speaker at the UTS PDP (university of Technology Sidney Alumni's Personal Development Program) which invites only selected speakers who are subject experts.
Featured speaker under the Lifelong Learning Program at Wisma MCA.
Interviewed on Red.FM and was an invited speaker during the 1st Youth Entrepreneur Convention under the MCA 9-Point Party Platform Exhibition at the Putra World Trade Centre in 2008.
Past Working Experience
He has a diverse working experience in husbandry, sales and marketing, clinical consultancy, teaching, grooming, team-collaboration, drama and training. He uses his more than 15 years' academic and professional experience to create training modules that are fun and result-driven, based uniquely on Drama Psychology.
He served as the 2002-2003 Vice President of Education and the 2003-2004 President for the Sunway Chapter of Toastmasters International, the premier worldwide public speaking organization and is currently the Area C3 Governor for 2007/2008, overseeing 6 public speaking clubs, namely the Toastmasters Clubs for KLIA, Pan Pacific Hotel, IJM Corp Bhd, Klang Bilingual, Stamford College & Sunway. A fiery & zany speaker, he has thus won numerous recognitions for captivating presentations, and regularly serves as a speech contest judge. Dr. Alvin was the Master of Ceremonies during International President DTM Brigadier General Chris Ford's visit to Cyberjaya in 2008.
Dr Alvin's In-House Courses
Dr Alvin's Public Program Courses