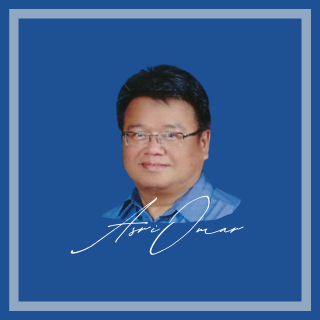 Contact Asri Omar
About Asri Omar
Berkelulusan Bacelor Pentadbiran Perniagaan dari Universiti Putra Malaysia
Beliau percaya latihan yang berterusan, berfikiran kreatif dan innovasi adalah kunci kejayaan sesebuah organisasi untuk terus berada di hadapan para pesaing. Kaedah pengajaran dan latihan beliau lebih kepada nilai nilai Islam, mengajak dan mendorong para peserta supaya berfikir tentang setiap kejadian yang terjadi dan mengaitkan dengan kehidupan seharian.
Asri Omar ialah seorang fasilitator yang memulakan karier beliau di Penerbangan Malaysia dari tahun 1991 sehingga 2005. beliau telah didedahkan kepada berapa Jabatan bermula Jabatan Kejuruteraan, Pentadbiran dan Katering. Beliau juga telah dilatih di dalam Total Quality Management, HACCP dan Halal. Pengalaman selama 15 tahun bersama Penerbangan Malaysia.
Pada November 2011 beliau telah memulakan karier sebagai Tenaga Pengajar Bebas secara sepenuh masa dalam bidang softskill dan menjadi rakan pengajar kepada beberapa buah Syarikat Konsultan Latihan. Beliau juga menjadi Pensyarah sambilan di OPEN University untuk modul 'Introductory Organisational Behaviour, Business Communication, Introductory Compensation Management dan Basic of Planning and selection of Human Resources'.
Pada Januari 2014 beliau telah memulakan tugasan sebagai Pensyarah sambilan di Institut Kraf Negara untuk modul 'Asas Keusahawanan' sehingga tahun 2015. Beliau juga merupakan seorang Tenaga Pengajar diiktiraf oleh HRDF dan terlibat sebagai tenaga pengajar untuk program Skim Latihan 1 Malaysia, Graduate Employability Management Scheme (GEMS) ,Graduate Enhancement Programme for Employability (GENERATE) dan Professional Training and Education for Growing Entrepreneurs (PROTEGE)
Asri Omar's In-House Courses
Asri Omar's Public Program Courses