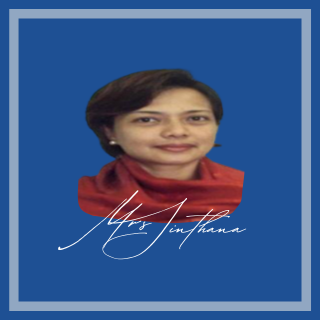 Contact Sinthana
About Sinthana
Trainer / Facilitator (PSMB Approved)
Diploma in Human Resource Management – AMSET/ University of Newcastle, Australia
Certificate in Training and Development – SMR / Institute of Professional Development, UK
Certificate in Personnel Management – Malaysian Institute of Personnel Management, KL
Certified Instructor for Skills for An Empowered Workforce – Development Dimensions International, KL
Diploma in Private Secretary-ship – CYMA College, Penang
Spoken Language:  English, Bahasa Malaysia, Hokkien, Thai
She develops training manuals in English and Bahasa Malaysia language and conducts many soft skills programs with particular interests in communication, leadership, office management and customer service.  Her role encompasses identifying training needs, designing contents and conduct training to fit customers' requirements. She also assesses effectiveness of programs at site.
Sinthana has over 20  years of work experience with multinational company, hotel and retail industry. Her experience in human resource management has given her the opportunity to realize her passion that is developing human potential. She trains all levels of employees including managers.
She aims to develop positive attitude and increase staff core competencies in each of her program which benefits the staff and the organization as a whole. She introduces a lot of self-reflection and interactions in her lively programs, and her approach stresses on key points, which is reinforced through role-plays and presentations.  She conducts her sessions in English and/or Bahasa Malaysia language. She holds qualifications in the areas of Training and Development, Human Resource Management, Personnel Management and Secretarial Studies.
Apart from her professional work, Sinthana also does translation and editing in both languages, ie English and Bahasa Malaysia for a translation/editorial company.  She also develops manuals customized to fit organization's requirements. She also contributes and volunteers as a facilitator and trainer for non-profit organizations.  She has also held position for a survey company in the oil and gas industry and currently a freelance facilitator attached to state development centre and private training providers.