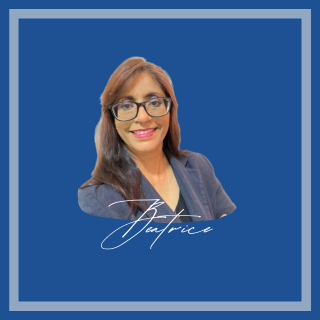 Contact Beatrice V. Xavier
Beatrice V. Xavier
Qualifications:
ICL Diploma in Computer Studies
NCC Diploma in Computer Studies
Microsoft Office User Specialist
Accredited by Pembangunan Sumber Manusia Berhad
Microsoft Word
Microsoft Excel, Excel Formulas & Functions, Pivot Tables
Microsoft PowerPoint
Microsoft Access
Microsoft Outlook
Microsoft Visio Lotus Notes Basic
Creating Customized PowerPoint Presentations
Beatrice has been in the training industry for the past 27 years; being one of the pioneer trainers of Microsoft Office training programs. She has vast experience having trained many people from various corporate sectors. She is also well experienced in conducting remote online training via video conference platforms such Microsoft Teams, Zoom and Google Meet.
She is a certified Microsoft Office training consultant and is accredited by Pembangunan Sumber Manusia Berhad (PSMB/HRDF).
She was attached to some of the premier Microsoft certified training centers, (Iverson Assoc., GHL Training, NIIT Cats) from where she gained extensive knowledge. Prior to her venture into training she
had worked as a programmer, developing programs for the legal industry.
In her capacity as a training consultant, she has conducted product seminars, pre and post training evaluations and extensively developed product materials both in English as well as Bahasa Malaysia. Language is not a barrier as she has not only conducted training in English but also in Bahasa Malaysia.
She has had international exposure having trained the American Embassy and the International Labour Organization in Thailand and the government sector in Brunei.
Among her achievements as a trainer are having spear-headed numerous tailored Microsoft Application training and Microsoft Certified Application Specialist Training. Participants attending training include
Managing Directors and Senior Managers.
Her patience, flexibility in tailoring the courses to the needs of the participants have made her training a success and her services much in demand.
Beatrice In-House program Courses
Beatrice Public program Courses